Uniform
Over the years, parents have been very supportive of our school uniform policy.  Our uniform is practical and helps children to feel a sense of belonging to our school.  Most items can be purchased in a supermarket as we no longer insist on items with the logo.
Details of our school uniform requirements can be found on Page 9 of the School Prospectus & Information booklet located on the Prospectus page of the website under the Parents Tab or by clicking on the following document:
BOOK BAGS: A school book bag is provided free of charge to all new pupils courtesy of our PFA but replacement bags need to be purchased from Brigade (Customer Services 024 7642 1083): www.brigade.uk.com.
If you do order uniform from Brigade, please find a copy of the Brigade Uniform Price List here:
ORDERS DURING THE SCHOOL YEAR
Please note that orders are sent in batches direct to the school and will be sent home via your child.  Orders are placed in a queue until 15th & 30th of each month and delivered into school up to 14 days after this. If you require your order to be posted to you direct, you must state this on your order and a P&P charge will apply.
Our deadline this year for school delivery is the 30 June – this is for existing parents who have uniform already.  After 30 June it will switch to home delivery and parents can continue to order up to 1 August to receive their uniform prior to the September term.  Please order early if possible to allow time to make exchanges should you need to before the deadlines.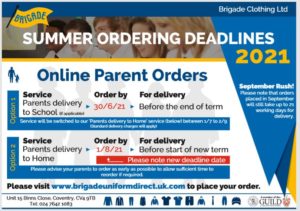 Please find further details, including washing instructions, from Brigade here:
2021 Brigade Schoolwear How to Measure Guide
2021 Uniform DS Delivery to School Summer Flyer 30 June Deadline
2021 Uniform PD Delivery to Home Summer Flyer 1 August Deadline